OnLINe/MOBILE BANKING Enrollment
Lone Star's Online and Mobile Banking is a convenient way to bank securely and easily over the Internet. Whether you are at home paying bills, or at your business transferring funds between accounts, we've got your covered. There are two options to choose from.
DOWNLOAD OUR SMART PHONE OR TABLET APPS TODAY!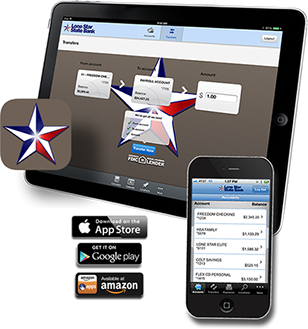 NOTE: PLEASE READ ENTIRE SECTION BELOW BEFORE CHOOSING WHICH OPTION TO ENROLL IN.
1. For Personal Banking or Small Business* customers Click the button below to enroll, otherwise continue to step two. NOTE: TO ENROLL IN MOBILE BANKING YOU MUST FIRST ENROLL WITH PERSONAL/SMALL BUSINESS ONLINE BANKING.
2. For Commercial Banking customers**, Click Here to enroll.
*Small Business users have all their accounts associated under one Tax ID, only one person that needs access to view accounts, and don't require ACH, Remote Deposit, or Wire Transfer origination with Online Banking.
**Commercial Banking users require multiple users to access various accounts or need the ability to use ACH, Remote Deposit, or Wire Transfers with Online Banking.
Our mailing address is
6220 Milwaukee Avenue
Lubbock, Texas 79424
Routing and Transit Number: 111325797
© Lone Star State Bank of West Texas 2015
Member FDIC - Equal Housing Lender
PRIVACY POLICY